Making art your profession is not as poetic and accessible as many people, remote from this sphere, think. Simply putting your works out there is not enough; you'll need to spend time choosing the right online platforms and marketplaces with reasonable terms, active target audience, and other significant parameters to sell art and start your online business. Sounds like a lot of time-consuming research work, but good thing we did this for you in this exhaustive review!
The pandemic crisis has changed the rhythm to which modern society beats. If the digital business used to take a predominant role but not the major one, the accents were dramatically switched to strictly online existence. As a result, the digital art market skyrockets, offering a plentitude of various items or services together with platforms to build your online presence and sell art. For many artists, the question "how to sell digital art" got replaced with "where to sell digital art" as the abundance bears a mere confusion, and a creator can feel lost in it. Having your own store or website would be a life-saving option, but what if it's a passive income plan? You can simply create work and use the already-established marketing tools for selling artwork projects!
Sticking to the idea of efficient time and effort spending and having a vast experience of working in graphic design ourselves for years now, we've made a list of the best marketplaces for online sales. No matter what domain you took for making money (digital illustrations, graphic design assets for different software or creating your own physical products), you'll discover a handful of options to pick from. Selling digital artwork is not only about the market research but the community it revolves around and the profit-beneficial terms of use it implies. So we dove into the topic to spare you some time on the investigation of places for selling digital artworks.
 Sticking to the idea of efficient time and effort spending and having a vast experience of working in graphic design ourselves for years now, we've made a list of the best marketplaces for online sales. No matter what domain you took for making money (digital illustrations, graphic design assets for different software or creating your own physical products), you'll discover a handful of options to pick from. Selling digital artwork is not only about the market research but the community it revolves around and the profit-beneficial terms of use it implies. So we dove into the topic to spare you some time on the investigation of places for selling digital artworks.

Selling Graphic Design Tools
The more people stay home, the more time they have for taking up new hobbies, upgrading the existing skills or refining their approach to what they do for a living. Such a thriving time for providing people with ready-made graphic design tools for fulfilling their artworks! Make sure you have your portfolio ready to be displayed as the majority of online platforms ask to show them what you've got before you enter their online marketplace for selling digital products.
One more thing before you start choosing the future homeland for your designs — investigate the terms and conditions about splitting your revenue with the online platform where you sell digital files. Perhaps it would be more reasonable to start with an online store, taking less money as during your testing & adaptation period, it might turn out that the picked website is far from your expectations.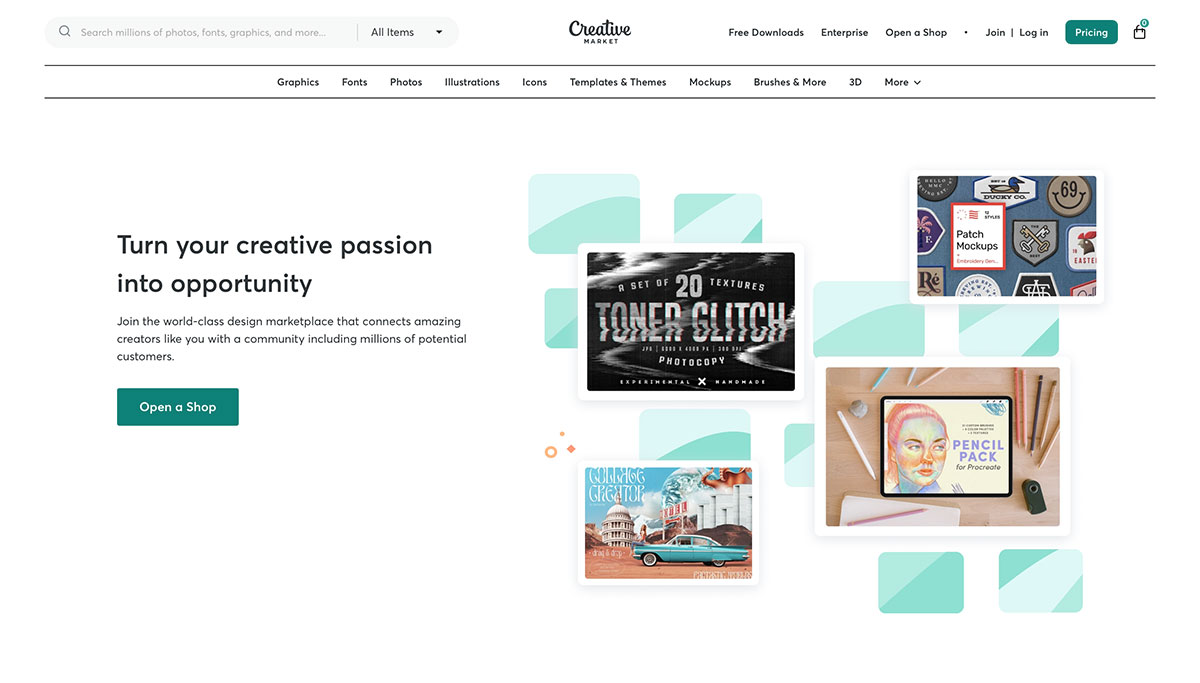 Creative Market was our first platform for selling art online. A lot has been changed, but the essence is still there — it's a beautiful place to sell art online! The website features millions of digital downloads for users who purchase graphics, templates, fonts, brushes, web themes, and photos. You can release an item (and eventually modify it) without having to wait for the staff approval.
Moreover, you set your own fair price for every sold product! Creative Market helps the shop owners to promote their goods via newsletters, seasonal sales, a hand-picked section with the best items and via many other ways. Keeping track of things in your shop is a piece of cake: the transparent stats and analytics help you to monitor all tendencies and buyers' behavior so as to pick the direction for improvements accurately.
The company also launched a special feature of integrating a shop with Dribbble portfolio, which saves tons of time! Since Dribbble is a daily source of inspiration for thousands of creators, it's undoubtedly great to show off your recent creations they can purchase directly from the platform.
Speaking of the revenue, the newcomers receive 85% share when the new store is still fresh and growing, but when you stand firmly on your merchant feet, Creative Market will take 50% — nothing personal, just business! It's still one of the best places to sell art online.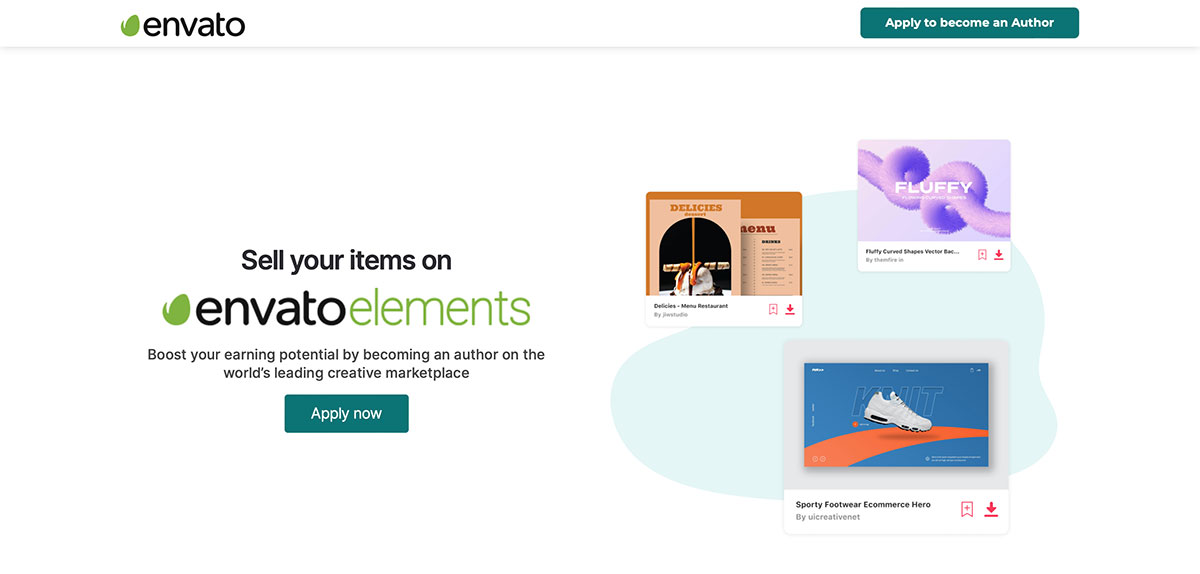 The subscription-based platform with huge online community, where users get unlimited downloads for a fixed price is another place you can embark on selling graphic designs. It's not only about the graphics, themes and templates: even your videos and audio files can be published, so selling art online is an enjoyable process here.
u to get into the complex licensing system for your digital files, there's a commercial license covering it all. Besides, you just sell your digital art and don't have to deal with customer support or products-promoting either, the Elements customer support team got your back when it comes to technical issues and marketing. Start uploading to Elements and get your 50% revenue share!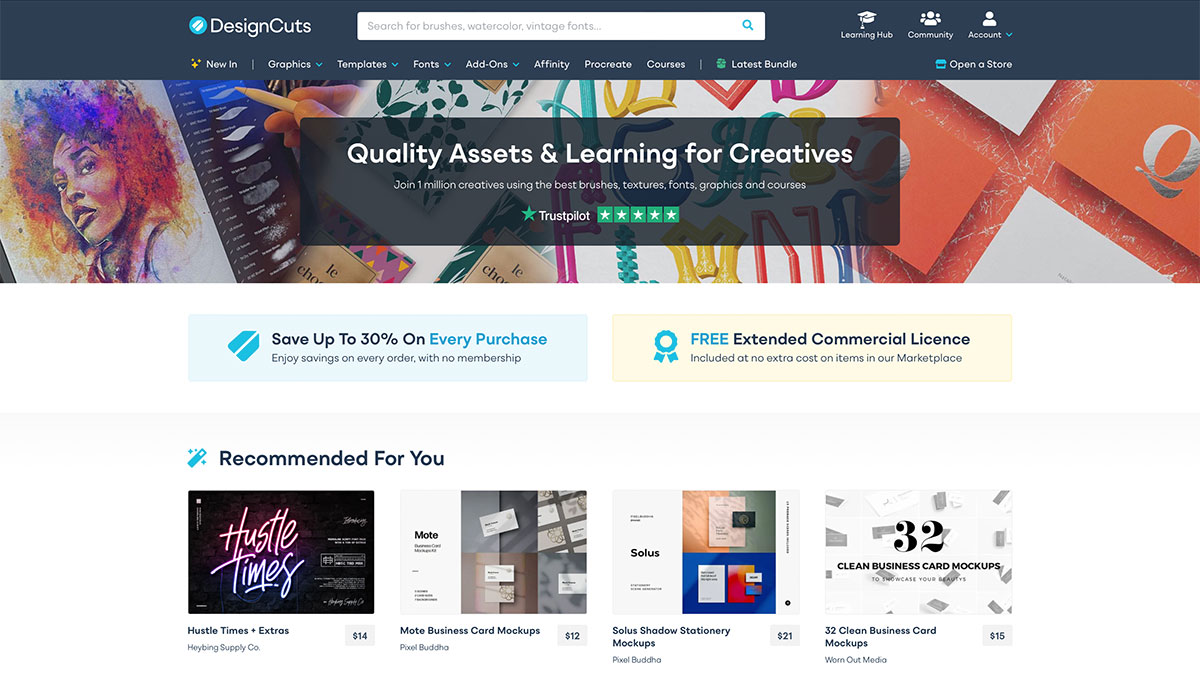 Tons of discounts and fair deals are a magnet for customers! So when you're thinking of selling art online and consequently enriching your community base (not mentioning a money-related side of things), you should get in touch with Design Cuts via their form. A curating team is a group of delightful people, always ready to help you with any question.
The uploading process is transparent and easy, you don't even have to handpick the product tags and worry about them being out-of-place. And if you've missed something or made a mistake adding previews, files or description, the review team will either mark this submission, stating the issue, or send you an email.
If you're not sure where to sell artwork or how to present your brand, portfolio or collection of works and whether it fits in the platform's concept, take a look at the Product Academy page. It's a set of 9 free video guides, telling the whole path from goal-setting to actually selling the items.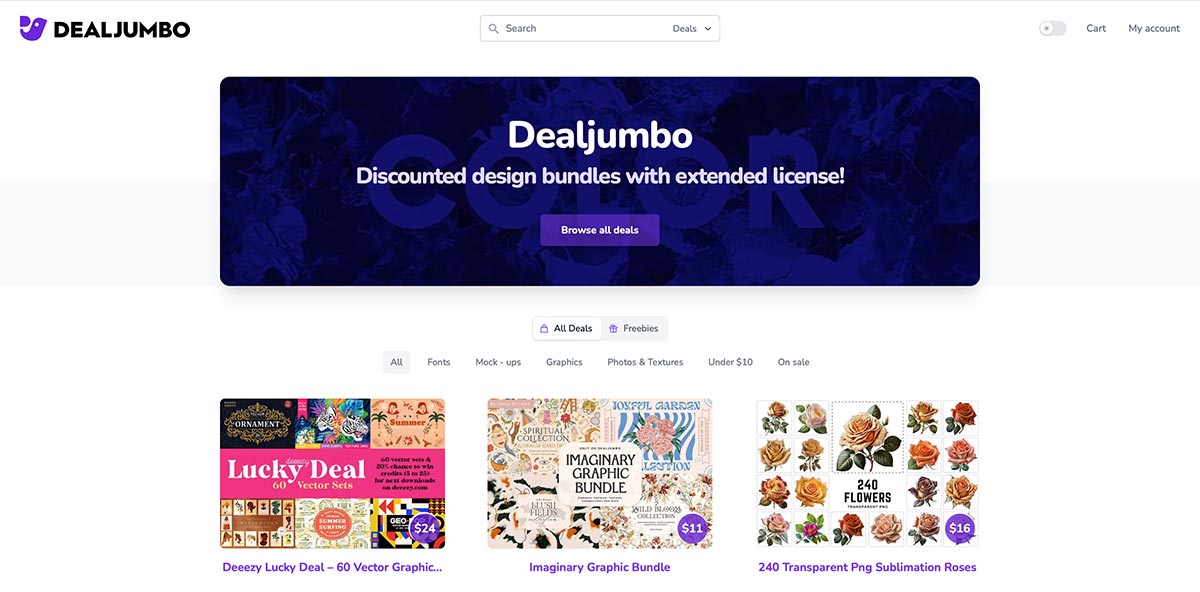 Swing by Dealjumbo to sell art online and get your products featured in the next discounted bundle or deal! The website itself is a real treasure for graphic designers as it has so many profitable deals anyone will enjoy. Share the freshest and rarest collections, boosted by a team of professionals, who make your sales skyrocket! The deals attract many customers, who discover this or that author/studio for the first time, so it's undoubtedly a great opportunity to be noticed and sell products and digital goods.
We've been collaborating with Dealjumbo for years, and we simply adore the website's support team! They're always so considerate, friendly and welcoming, which is very valuable, especially if it's your first platform for selling art online.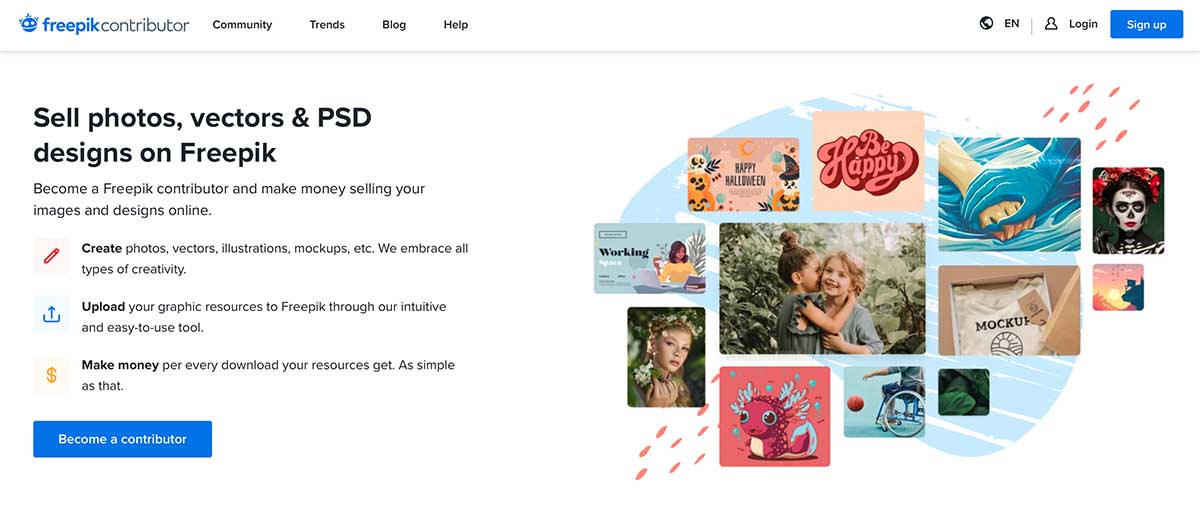 Aiming at the exposure to spread the word about your own work is not the last of your concerns when starting a shop to sell art online. Freepik can provide you with a huge community of users, having a taste for high-quality graphic design assets. How does immersion into this online marketplace happens? You register the account and start upload resources: the best 20 files you have for starters, 'cause they will decide the destiny of your marketplace presence.
When the submission is approved, move straight to filling your account info, including taxes. Consistency and the number of provided digital downloads are two the most important things, don't lose them out of sight if you become Freepik Contributor. To get into specifics before starting to sell your digital art and learn about more features, please visit the FAQs for contributors.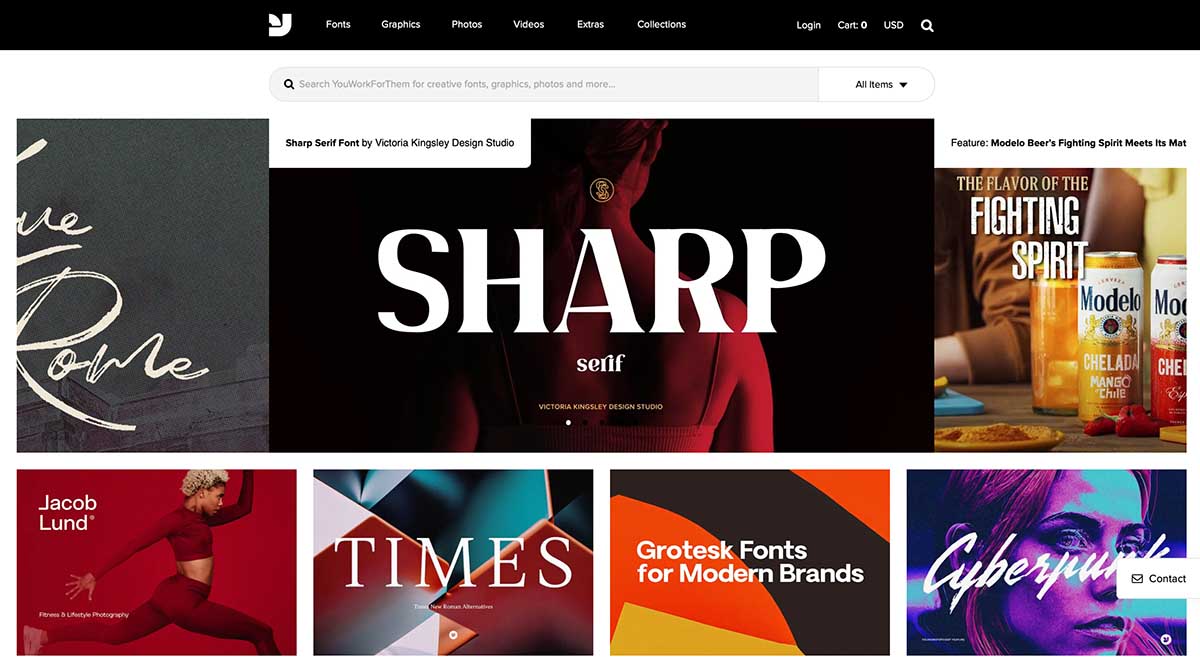 Work for them while earning for yourself! Created by designers for designers, the website's policy for contributors is fair and square: the profit is split 50/50, adjust the license features yourself, keep track of sales and your profile presence, get recognized via the promotion posts on Facebook, Twitter, Behance, Pinterest and dedicated newsletters. You can generate more revenue by applying for the affiliates program.
After setting up your account, transform it to the contributor's page and fill out the information forms about your account. You can ask the Support Team to do this for you, just make sure to provide them with the relevant info. Prepare you digital file collection, upload them to the website, add the product's name, other details and start selling graphic designs!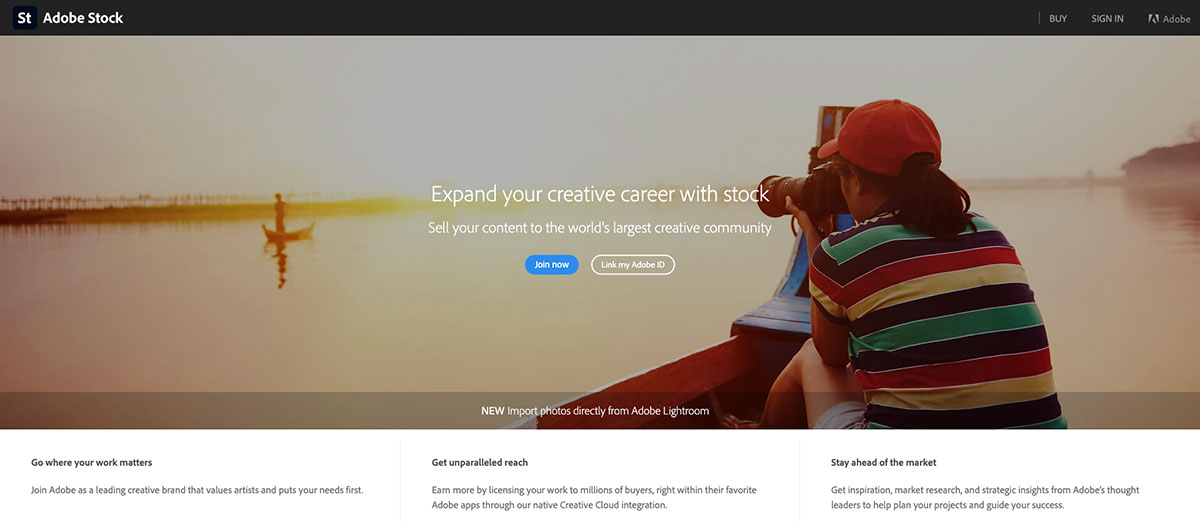 Obviously, Adobe doesn't need any special thorough introduction — this huge corporation provides a gazillion of people (who are your potential buyers) with efficient high-end digital products for creativity and design. And you can join the forces with Adobe and sell digital downloads you created with the world!
To sell art, create an account then turn it into a contributor's one. You will have questions during the process of submission, it's okay: the team of professionals in Adobe is by your side on any pressing topic you might have. Build your schedule for uploading the digital products, make it a systematic thing to let it yield results in no time!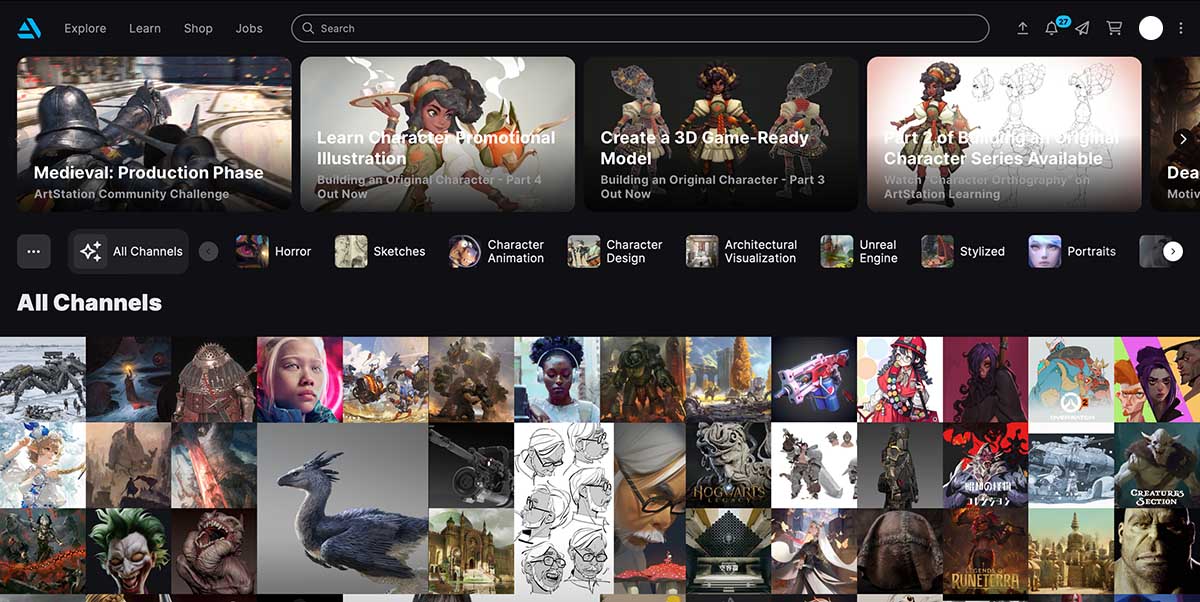 Did you know that ArtStation is not strictly about displaying and selling digital art online? Operating as Instagram for your illustrations, the website is suitable for distributing any types of assets (Photoshop effects, brushes, fonts and more). You won't be in the wrong, saying the platform's main purpose is not financially oriented but nevertheless, it bears benefits. Sometimes the digital downloads, sold badly on one websites, are hot hits on the others as the audience changes. So go for it: experiment with previews, the kit's volume, types of products in order to find your happy medium and sell art online.
What Dangers to Look Out For?
Needless to say, that putting your digital art prints and files out there arrises the risk of being robbed of these precious talent manifestations. You should be mentally prepared for the fact of encountering your original art on various marketplaces, websites, and social media platforms: sometimes the little crooks get the files, adjust it a little (let's say, change the color palette or apply filters), but the laziest ones don't even bother concealing their crimes and sell products of yours shamelessly.
Here comes the tactics map with two possible paths you can fall for in this online business: ignore or no more! Both of these choices are valid, having their strong and weak sides. If you catch some graphic designers, independent artists or studios red-handed on your digital assets distribution, doing via a well-known marketplace, perhaps it worths a shot to message a special department, dealing with content stealing(read a more detailed guide we wrote about fighting digital piracy).
If you can call yourself a person, who've grasped the nature of zen and not easily-irritated, then simply ignore all the wannabes as they won't be able to achieve the same success as you did. In fact, you save the nerve cells as a pleasant bonus of a pacifistic approach.
Selling Graphic Designs: Print on Demand & Merch
Working in graphic design and illustration essentially involves viewing millions of artworks and making those that turn out so fabulous you want to print them on t-shirts, stickers, phone cases, packaging — that's how mind-blowing they are. Unfortunately, you might never get around to doing it, and the idea gets buried in a pile of more pressing tasks. And people keep asking questions like, ''can you use your paintings and illustration for digital art print to sell online?''
Don't wait till someone intercepts this initiative, take the lead and outpace everyone! Here's the list of online marketplaces to fulfill the plan of selling art (even fan art, by the way). And frankly speaking, continuous scrolling through the website in search for information has already lured us into ordering a couple of new sticker packs, t-shirts and a new office mug, the client-oriented service — check!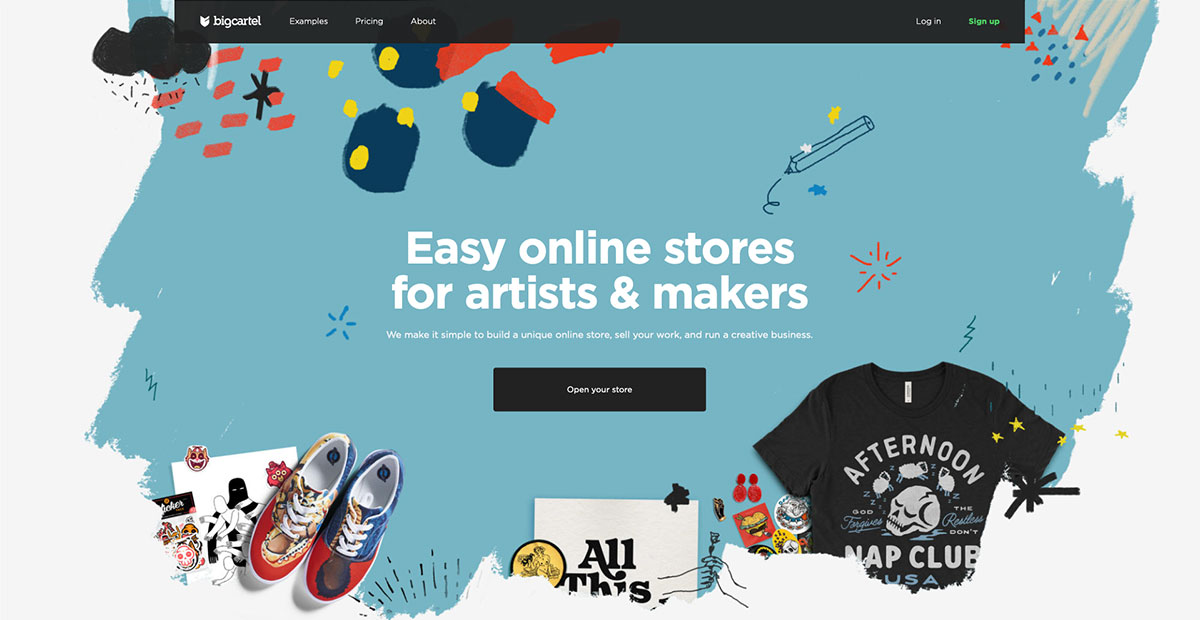 Even though the website's name has the word ''big'' in it, and this resource has a massive base of items for sale, the marketplace refers to itself as a small indie platform for selling digital artworks. The online marketplace has an appealing design, triggering a desire to present your store from the best sides.
All the vendors are offered a vast range of shop page customization, using the collection of free editable templates and themes, alongside coding the features you need (if you have enough skills and time for that). The handy and straightforward navigation significantly facilitates both placing the product and shopping for high-quality goods.
Big Cartel leaves nothing but a good impression and fosters a desire to sell art online while simultaneously dropping by other vendors' shops to find curious items.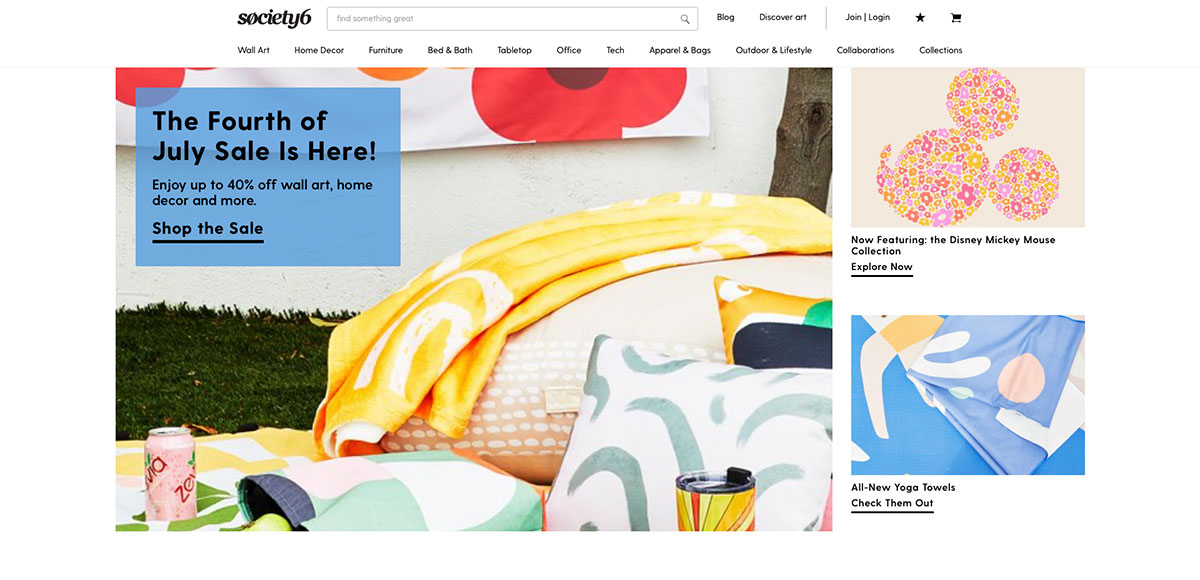 Every time we scroll through Behance or Dribbble searching for inspiration, we stumble upon digital art prints that will look fantastic on a new t-shirt or new inspiring interior poster. The first question popping up is, "oh, does this author sell digital art on Society6?"
Right after entering the art market, your trust is conquered by uncluttered and stylish design, comfortable categories navigation, and an enormous diversity of items just about ready to jump into your cart. The Society6 team takes over managing the artworks' printing and distribution to recipients — just as easy as visiting a local printing shop, but less time consuming. Make sure you settle all the shipping costs questions. Then you just need to upload the files fitting all technical requirements and provide a constant flow of new gorgeous digital art prints! Can't wait to start selling digital artworks? Grab this registration form link and start making people happier with your illustrations and patterns!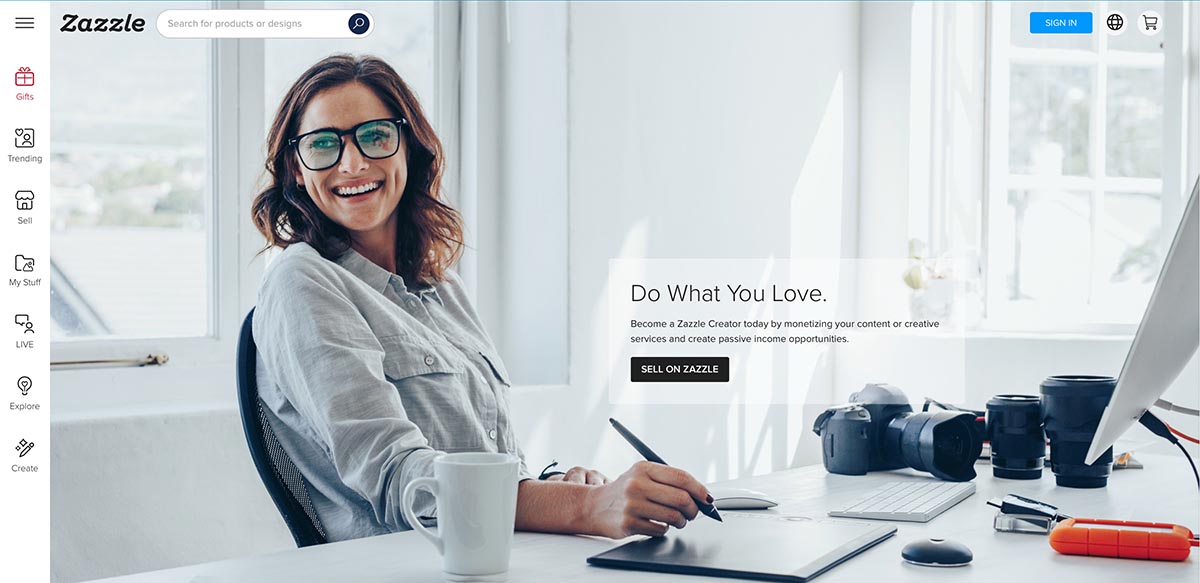 Team up with customers themselves to create inimitable products they'll be excited to receive! Zazzle is charged with multipurpose functionality, making it possible not just to purchase a ready-made end product but edit the digital art print in real-time the way heart desires. Meanwhile, you're generating a profit by your content's monetization.
The item's adjustment features make your head go round! But it's for the best because with a free choice of customizable elements for this or that print, your illustrations are more likely to never be rejected due to some teeny tiny detail as it can be promptly fixed according to the client's taste.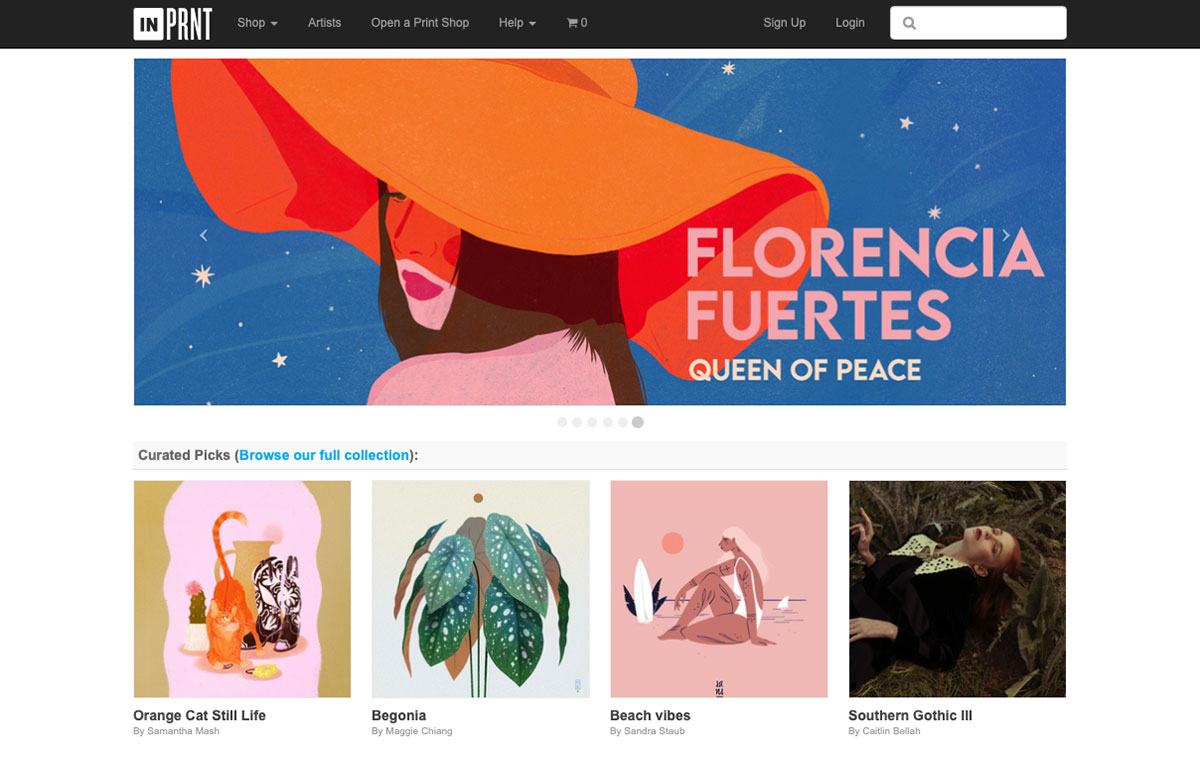 This website is aimed at selling graphic designs in the format of art prints, device cases, wall art, and framed work. To enter, you'll be asked to upload 3 artworks as a test that will be reviewed by artists already running their own store there. When your portfolio is approved, your account gets automatically transformed into the vendor's account, then sales, recognition and success await!
Speaking of the site's design, it looks kinda old, but it doesn't interfere with usability of the print on demand services, so it's not a big deal. All users can start searching for items for personal use either in categories of goods or by clicking art style k they like and checking out the offered things a digital file can be printed on.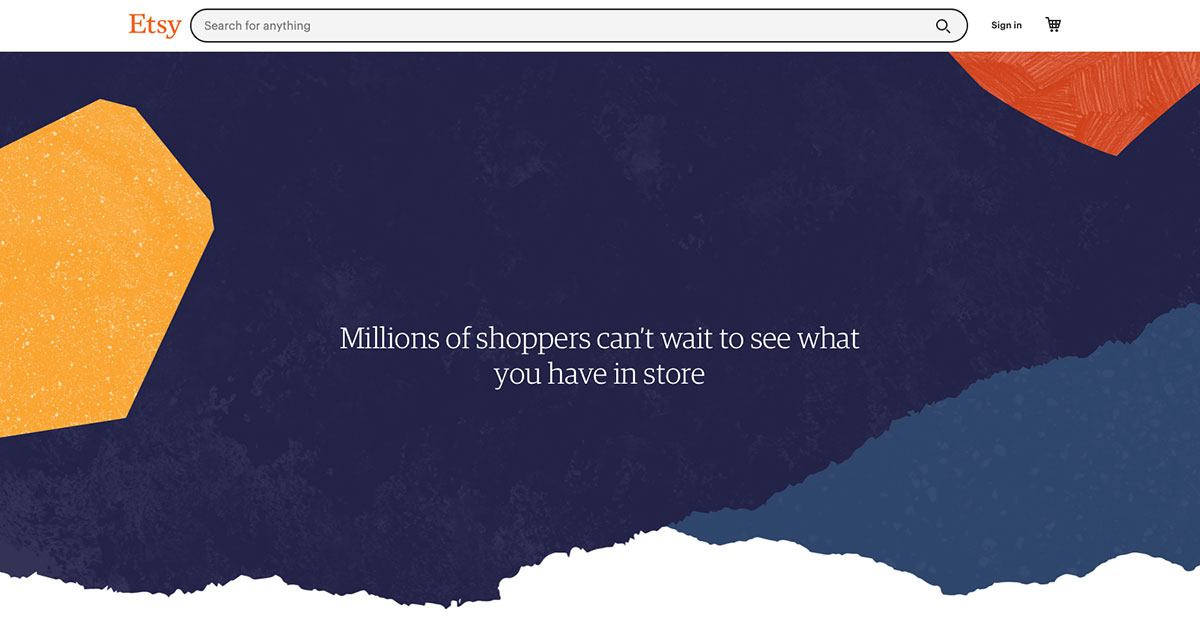 While earlier Etsy shop used to be known solely for being an online store for selling physical hand-crafted items by creators from all over the world, now it's a pretty convenient platform to sell digital artworks as well. Bear it in mind when you choose a source of monetizing your works to earn passive income.
The registration process goes smoothly but be careful and entirely sure about the info you provide for setting up an account as the future impulses to change the shop's name or email address used to log in will be impossible. Every product (called ''listing'') is placed for a small fee of 0.20 cents for a limited period, and each purchase is taxed at the rate of 6.5%. If you're confident about how your listings are filled out according to all the requirements, you can opt for Etsy Ads, boosting your shop's rating and sales.
A little titbit from our own website experience. Selling digital artwork and assets aside from prints for physical products is possible on Etsy, but in a form of download link. It's not a super profitable plan, we don't recommend trying this out.