Image Credits: Mateusz Slodkowski/SOPA Images / Getty Images
Canva is introducing a series of new features, including a suite of AI-powered tools, and a new Brand Hub. The company unveiled the new features and tools during its Canva Create virtual event today.
RECOMMENDED VIDEOS FOR YOU…
The company is launching Assistant, which lets users search for design elements and provides quick access to features. The tool can also give you recommendations on graphics and styles that match your existing design. Assistant provides quick access to AI-powered design tools like Magic Write, which is the platform's AI-powered copywriting assistant that it launched in December.
As of today, Magic Write will be accessible within all Canva project types, from Presentations to social media graphics, flyers and more. Prior to this expansion, Magic Write was only accessible in Canva Docs.
You can use Magic Write for writing website copy or presentation summaries. For example, you can ask Magic Write to list social media strategy ideas for a new product launch. The tool takes into account the type of project you're working in when suggesting copy. In addition to the expanded availability, Canva announced that Magic Write is now available in 18 languages.
Canva has also launched a new way to automatically generate presentations. You can prompt the editor to create a range of presentations with an outline and content on each slide. As for design, the company's new "Magic Design" tool lets users upload an image and then select a style to get a curated selection of personalized templates that you can customize.
We also have a new "Magic Edit" feature that lets you add or replace anything in an image. You can identify where you want to add something and then describe it to Magic Edit. A new "Magic Eraser" feature allows you to clean up unwanted details in images by brushing over the area.
Canva also is launching "Beat Sync," which automatically matches video footage to a soundtrack of your choice, along with a new a new "Translate" feature that automatically translates text in designs to over 100 different languages. In addition to the new AI-powered tools, Canva is introducing a set of new features that it says users have requested.
First, the company is launching "Draw," which lets you sketch a simple shape, like a circle, and then have it transform into a polished circle. A new "Layouts" feature allows users to add content to a page and get recommendations for layout ideas for a design, whereas "Styles" gives users the ability to browse suggested color palettes and fonts.
A new "Layers" tool can be used to see all elements in one place, including text, shapes, images and video.
Canva now supports Alt Text, which means you can provide extra context to your images and elements to describe them for those with visual impairment or accessibility needs. Another new welcome update is the addition of 953 new fonts, including Arial, Courier, Helvetica and Times New Roman.
The company is also launching Brand Hub, a range of new tools and features designed to help teams stay on brand. The hub includes a new "Magic Replace" tool that allows users to quickly update brand assets, such as logos, across your designs on the platform.
In addition, the hub includes tools that help you create brand templates, folders and guidelines. Admins can also approve workflows directly in Canva to ensure that designs are reviewed and approved before they're published.
"Ten years ago, we launched Canva driven by a vision to empower everyone to design anything, no matter their skills or experience," said Canva co-founder and CEO Melanie Perkins in a statement. "Today, we're thrilled to advance that vision by introducing a whole new range of features, focused on empowering brands to scale their creative outputs. As technology continues to advance, we are reimagining the design process by making it even easier to take what is in your head, get it onto a page, and out into the world, faster than ever before."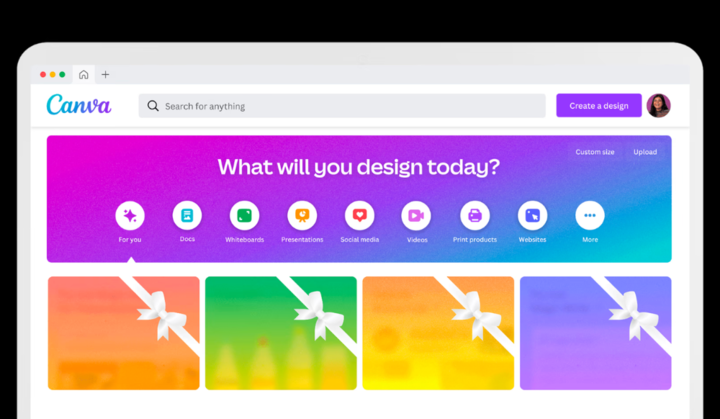 Launched in 2013, Canva now touts more than 120 million monthly users, which is 35 million more than it had before the launch of its Visual Worksuite in September 2022. The company says more than 15 billion designs have been created using its platform.
this post credit by  techcrunch.com
Canva is a name that will already be known to many creatives. In its 10 years in existence, the Australian company has expanded its products rapidly from logo, presentation and social media design to include video and more. And now it's going further.
In today's Canva Create presentation, the platform will unveil a ton of new branding features and AI tools showing that it aims to become nothing less than a one-stop shop for brand managers and creative teams, covering almost every communicational need (see our pick of the best graphic design software for more options, or see our Canva review, which will now need an update).
This includes the ability to create and share a Brand Kit containing logos, colours, fonts, icons, imagery, graphics, and brand guidelines that everyone in a brand's team can access. Team admins can even enforce 'Brand Controls' by limiting the fonts and codes available to other team members to avoid people having to check hex codes and to prevent the wrong assets from being used,
RECOMMENDED VIDEOS FOR YOU…
There's also a Brand Templates tool designed to help save time on repetitive tasks, allowing teams to create more content while staying on brand. Meanwhile, Brand Folders for specific events, campaigns, teams or projects aim to help teams keep branding organised and accessible.
Canva's 10th-anniversary update also includes a bunch of AI-driven tools that aim to speed up design processes. These include Magic Design, Magic Edit and Magic Eraser (yes, that's a lot of magic). The first allows users to upload an image and select a style to create personalised templates or presentations. Magic Edit can be used to replace or edit anything in an image using a text prompt – mark where you want something to appear, describe it, and it appears.
Other new AI features include Canva Assistant, Beat Sync to automatically match video footage to a soundtrack, Translate (we'd advise getting a native speaker to proofread your copy before going wild and publishing anything made using this), and Magic Write, Canva's 'copywriting assistant', which can now be used across the whole Visual Worksuite including in Presentations, Videos and Websites.
Finally, the Canva update also includes a batch of other new and updated features that it says have been requested by users, including Shape Assist to turn sketches into perfectly formed shapes, layout recommendations, new fonts (including Helvetica, yay!), a Styles feature that can match new designs to previous work, layers capabilities, gradients, precision position tools, Alt Text and Smart Design Imports, allowing files to be dragged into the editor and turned into an editable Canva design.
Canva CEO Melanie Perkins said: "As technology continues to advance, we are reimagining the design process by making it even easier to take what is in your head, get it onto a page, and out into the world, faster than ever before."